Saddles
Hunter/Jumper - Close contact jumping saddle which features a seat with a low pommel and a square cantle. Saddle flaps are cut forward with a smooth padded knee area. Most riders prefer a small knee roll or block and many jumper riders also use a rear block for greater security. Colors are natural tan to dark brown. A new European trend...a few black saddles are now used in the Jumper show ring. Short billet straps allow a long girth to buckle under the saddle flap where it won't rub the horse or rider.
Eventing - At the lower levels, many riders use a jumping saddle for all three phases. At the upper levels, most riders own a Dressage saddle, and a jumping saddle with a flap forward enough for the short stirrup length required for the Cross country phase. Colors can be brown, black, or natural tan. Some Cross Country saddles have long billets to use a short dressage style girth. This eliminates bulk under the rider's leg, but is more likely to rub the horse.

Dressage - Dressage saddles feature long straight cut flaps with a deep, supportive seat. Knee or thigh blocks may be small or quite large according to the rider's preference. The preferred color is black.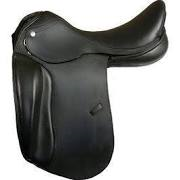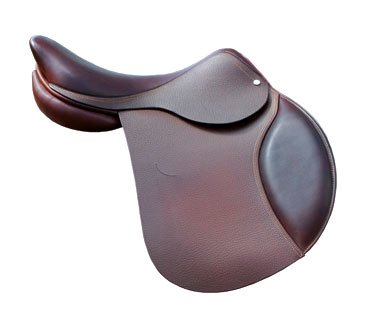 Bridles
Hunters and Equitation - Raised and raised padded with fancy white stitching and raised fancy stitched laced reins are the popular choice. There is a trend toward wider width bridles which look better on the bigger warmblood horses. Dee and pelham bits are the most popular. Colors can be natural tan or dark brown.
Jumper - Raised figure 8 or flash with rubber reins are the most popular. Any style of bit is allowed including snaffles, gags, and hackamores.
Dressage - At the lower levels, the flash snaffle bridle is used. At Third Level and above the double bridle is allowed. Most Dressage riders choose thickly padded nosebands for the comfort of the horse. The "crank" padded noseband is currently very popular. Browbands with "bling" are trendy. Reins are usually cotton web or smooth leather with leather hand stops. Some riders use rubber lined reins for grip. Snaffle bits made of "German silver" which is a copper alloy in the loose ring French or KK link are used most often. Double bridle bits include a curb and bradoon snaffle.
The bradoon has smaller rings to eliminate interference with the curb. The bradoon should be a larger width than the curb to allow both bits to fit properly.
Eventing - For the Dressage phase the same bridles would be used as in a regular Dressage show. Snaffle bridles are used in all competitions except F.E.I. tests where a double bridle can be used. For Cross Country, riders choose sturdy constructed bridles, usually a flash or figure 8 snaffle with their choice of bit. Reins are rubber or cotton web for a good grip. For Show Jumping, most riders use the same type of bridle as used in the Cross Country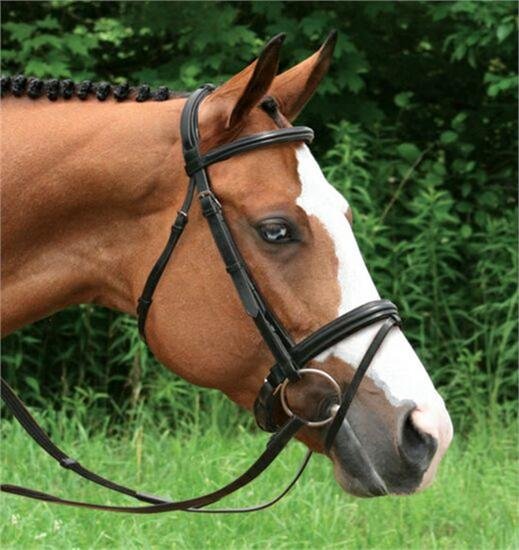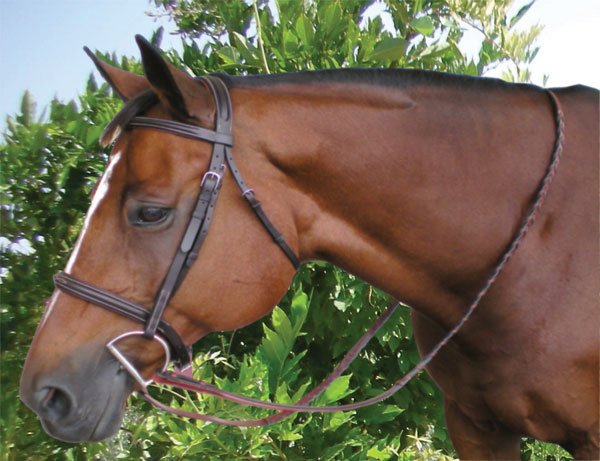 Saddle Pads

Hunters and Equitation - A white pad shaped to the outline of the saddle made of washable fleece usually lined with cotton. Recently, many riders are also choosing genuine sheepswool pads to give greater comfort and breathability. Some "breed shows" require a saddle pad with space on either side of the saddle to display the competitor's show number.
Jumpers, Dressage & Eventing - A quilted cotton square pad in white always correct. Some riders have a colored trim or monogram on their pad.


Horse Boots
Hunters & Dressage - These disciplines do not allow a horse to compete in boots or bandages. However, most are trained in boots.
Jumpers & Equitation - Open front shin boots are worn on the front legs to offer protection but still allow a horse to feel a rub on the jump. Ankle boots are worn on the hind legs. Leather boots or plastic/neoprene molded plastic style with rubber, fleece, or leather linings are popular.
Eventing & Cross Country - Full coverage galloping boots are worn front and hind. Some horses wear pull on bell boots. Cross country boots are made of plastic and neoprene with velcro straps to make clean-up easier. Many competitors will tape over velcro to be certain they will not come loose